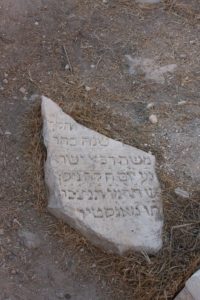 Har HaZeitim — The Mount of Olives — is Judaism's oldest and holiest cemetery, the resting place of more than 150,000 Jewish souls. And yet through neglect and acts of hatred, it has been desecrated, its graves destroyed, and its visitors and mourners attacked. It is time to take a stand.
The International Committee for the Preservation of Har HaZeitim is committed to stopping the defilement of this holy ground. Your support will help insure that fences are built, security cameras installed and monitored, police patrols increased, and tough new laws on desecration of graves and on violence against mourners and visitors are passed in the Knesset.
Report Incidents
The more we know about what is going on, the more we can put pressure on authorities to take strong action in protecting Har HaZeitim and the people who go there to pay their respects to loved ones and the departed leaders of our people. If you have a story to tell or a picture to share, click here. We'll make sure your story is registered, so that it will never happen again.
The names "Har HaZeisim" and "Har HaZeitim" are used interchangeably on this site due to the diverse phonetic pronunciations of Sephardic and Ashkenazic Jews.