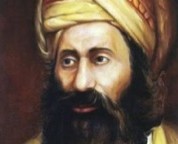 Har HaZeitim — the Mount of Olives — is the resting place of over 150,000 Jews. Some of the more prominent names are listed below.
Prophets
Rabbis
Levi Yitzchok Bender, leader of the Breslov community in Uman and Jerusalem
Yehoshua Leib Diskin, Rabbi in Brisk and Jerusalem
Shlomo Elyashiv, Lithuanian kabbalist
Moshe Mordechai Epstein, Rosh Yeshiva Slabodka, Lithuania
Abraham Gershon of Kitov, brother-in-law of the Baal Shem Tov
Shimon Hakham, Bukharian writer and translator of Jewish holy texts and stories in Judeo-Tajik
Yitzchok Hutner, rosh yeshivas Yeshiva Rabbi Chaim Berlin, Brooklyn, New York
Judah he-Hasid, 17th-century immigration leader
Rabbi Lord Immanuel Jacobovits, Chief Rabbi of Great Britain, 1967-1991
Zvi Yehuda Kook, Rosh Yeshiva Mercaz HaRav
Shlomo Moussaieff, Bukharian family patriarch
Meir ben Judah Leib Poppers, Bohemian Rabbi and Kabbalist
Obadiah ben Abraham, the Bartenura
Eliyahu David Rabinowitz-Teomim, Rosh Yeshiva Mir
Zundel Salant, rabbi and primary teacher of Rabbi Yisrael Salanter
Yechezkel Sarna, Rosh Yeshiva Slabodka
Avraham Shapira, Rosh Yeshiva Mercaz HaRav
Yaakov Chaim Sofer, the Kaf Hachaim
Pesach Stein, Rosh Yeshiva Telz, Cleveland, Ohio
Yitzchok Yaakov Weiss, head of the Edah HaChareidis, Jerusalem
Hasidic Rebbes
Simcha Bunim Alter, fifth Gerrer Rebbe
Maiden of Ludmir, female Hasidic Rebbe
Moshe Biderman, Lelover Rebbe
Yosef Leifer, first Pittsburger Rebbe
Yechiel Yehoshua Rabinowicz, Shedlitser Rebbe
Shaul Yedidya Elazar Taub, Modzitzer Rebbe
Chief Rabbis
Cultural Figures
Princess Alice of Battenberg, mother of Prince Philip, Duke of Edinburgh
Eliezer Ben-Yehuda, Israeli linguist
Harry Fischel, American businessman and philanthropist
Israel Dov Frumkin, Israeli journalist
Uri Zvi Grinberg, Israeli poet and journalist
Yossele Rosenblatt, hazzan and composer
Boris Schatz, founder of the Bezalel School in Jerusalem
Ephraim Urbach, Israeli scholar
Political Figures & Notables
Nissim Behar, Zionist educator
Israel Eldad, Israeli independence fighter
Jacob Israël de Haan, Dutch Jewish journalist assassinated by the Haganah
Gavriel and Rivka Holtzberg, terror victims
Moshe Hirsch, leader of Neturei Karta
Robert Maxwell, Member of Parliament
Boedil Thurgotsdatter, medieval Danish Queen
And many, many more. Help us to ensure their resting place is a place of rest.
If you know of another soul that should be included in our registry, please complete the form on our Registry page.