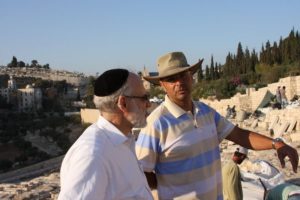 The International Committee for Har Hazeitim (ICHH) was founded in May 2010 by Avraham Lubinsky following a stinging report on the conditions on Har Hazeitim — the Mount of Olives —  by State Comptroller Micha Lindenstrauss. The lengthy report blamed successive governments for neglecting the oldest and holiest Jewish cemetery. In summary, Lindenstrauss noted: "Repair work proceeds at a snail's pace, maintenance standards are inadequate, security is sorely lacking and vandalism and criminal acts continue unabated, accentuating the danger that funds and labor at the site will go down the drain."
Mr. Lubinsky mobilized a cross-section of American Jewish leaders and activists to participate in a committee that would determine the extent of the neglect, research government resources to deal with the problem, educate Jews and non-Jews about the sanctity and relevance of Har Hazeitim to the Jewish people, formulate recommendations to correct the problems, and monitor conditions on the 3000-year old cemetery. In addition to the American-based committee, an Israeli committee consisting of representatives of a broad segment of Israeli society was formed following an historic meeting at the Great Synagogue in Jerusalem attended by more than 1000 Israelis from every walk of life.
The deteriorating state of the 3000-year old Har Hazeitim was called by a participant a "national disgrace" as the cemetery is not only the burial place of the nevi'im (prophets) Zechariah, Chaggai and Malachi, and of many leading rabbis and Chasidic leaders, but also of Menachem Begin, the Prime Minister of Israel, many secular poets and authors and Rabbi Shlomo Goren, the former Chief Rabbi of Israel.
The Committee has been working tirelessly to restore the historic prominence of Har Hazeitim, including meetings with Israeli Prime Minister Benjamin Netanyahu, Jerusalem Mayor Nir Barkat, Cabinet Ministers, Members of Knesset and prominent Israelis and Americans. It has succeeded in galvanizing a new effort to restore the neglected historic landmark. It is determined to continue to serve as primary advocate and watchdog to assure that the sanctity of the dead is preserved and that Har Hazeitim is a safe and secure site for visitors, mourners and tourists.
Download our comprehensive case statement brochure here.